Faber's Cylinders are appreciated worldwide by scuba divers who choose steel tanks for their aqua-lung apparatus. To give you the lightest (and hence an optimum wall thickness) steel tanks (cylinders) with an ideal buoyancy, our scuba diving cylinders are diligently manufactured using high quality steel plates. If you are already using steel cylinders when diving you don't need to be convinced about the advantages of steel. Beside the buoyancy attractions, it occupies a far lower volume for the same water capacity allowing you to enjoy greater space and freedom and free from any worries of developing any premature defects such as sustained load cracking (SLC) found in some aluminium alloy cylinders such as those from alloys AA6351, AA6082, which could limit the life of your cylinder.
So do be sure that the next time you purchase a cylinder the FABER stamp is on it (go to How to recognize Faber Cylinders). If you are not using steel cylinders, then do use one and you will soon realise what you have been missing. Faber can offer you the most comprehensive range of cylinders for Scuba Diving.
No other manufacturer in the world can match our capabilities and the breadth of our product range. Browse our Catalogue and find the cylinders for your specific needs. More technical information about Faber's Cylinders for Scuba Diving is available at Dive Faber's Database & Drawings If you are a diver or a retailer or a diving school we will be happy to help you with the information you might need. At where to buy we have started a service aimed at letting you know directly from our wholesalers where you can secure Faber's cylinders. However in this case, we will not be able to quote you a price since the wholesaler will be able to give you this . If you have your own brand of scuba diving equipment or you are a wholesaler and looking for information please send an e-mail to info@divefaber.com. When e-mailing to us, please do remember to specify the number of cylinders you need, their size (s) i.e. water capacity and diameter, the manufacturing standard e.g. ISO 9809-1, the requested neck thread and any other feature that you feel you need. Please note that it may be that we are unable to quote to you due to an existing agreement we have for the distribution in your country. We apologize for this and will of course let you know where you can get your quotation.
Some final advice: looking after and maintaining your Faber diving cylinder well will bring you many years of underwater pleasure and most importantly a high degree of safety while you enjoy .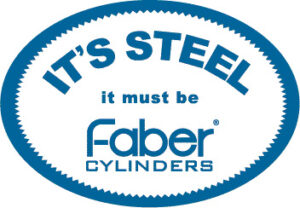 Faber production covers all Cylinder Types:
Type 1 Steel¹ Cylinders
Type 2 Steel¹/Fibre Composite Cylinders
Type 3 Steel¹ & Aluminum¹/Fibre Composite Cylinders
Type 4 Full Composite Cylinders
¹ Faber Type 1, Type 2, Type 3, from 100% Seamless Steel & Aluminum
Faber production range:
from 1 to 700 litre water capacity
from 80 to 660 mm diameter
up to 1100 bar Working Pressure
DATABASE & DRAWINGS
Faber is leader in the production of seamless steel and composite cylinders.
You can access our database and print diving cylinders drawings, please login.
Access the database